Brass (replica) of Ralph Segrym
Photo © S. Alsford
After Ralph Segrym's death a memorial brass effigy of he and his wife was placed above their tomb in the church of St. John Maddermarket, Norwich. The replica above was displayed in a museum once housed in St. Peter Hungate. He is depicted wearing a long tunic with baggy sleeves, high-standing collar, and a full-length cloak and mantle.
Segrym had become a freeman of Norwich in 1426/27 as a mercer. He served as chamberlain of the city from 1437 to 1439, as sheriff in 1442/43 and, unusually, again for part of 1447/48 (after city government was restored, following a royal wardenship), and – after representing the city at one of the parliaments of 1449 – as mayor in 1451/52. He participated in four other parliamentary elections at Norwich between 1442 and 1453, on the last occasion being described as an alderman.
Segrym was a benefactor to the city. In 1454 he, in the role of executor of John Wilbeye, used money allocated by Wilbeye to charitable works to construct a separate prison for women in the city guildhall; it was said that he did this out of community-spiritedness. From his own resources he also funded the creation of a chapel inside the guildhall; this may have been to serve prisoners there, for the dedication was to St. Barbara, the patron saint of prisoners, but it could also have been used for chantries.
Segrym himself died ca.1455/56 – another former mayor, Richard Brown, when given a royal pardon (April 1456) was described as his executor – and his bequests included £10 to clean up the river running through Norwich. The following year his executors allocated £133.6s.8d from Segrym's estate towards repairing the city walls, on condition that if the work cost more, the city would pay the remainder. These initiatives were perhaps in response to a complaint from the king ca.1452, addressed to mayor, sheriffs, and the principal aldermen Segrym among them), that the river passage was obstructed by weeds and the dumping of muck therein, and that the city walls and towers were in so ruinous condition they could not withstand a siege.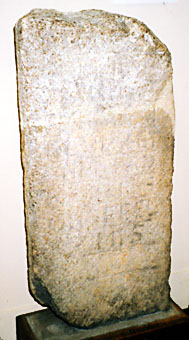 13th century gravestone
of Bert[r]and de Fun...eki,
with inscription in Anglo-Norman French;
displayed in St. Peter Hungate
Photo © S. Alsford
Only a small minority of testators asked for a grave memorial. Brasses were expensive and it is unlikely that the tombs of very many townsmen were thus memorialized, although by mid-fifteenth century the cost was reducing and traces left on tombstones show that there were once quite a few more brasses than have survived to us. For the majority, buried in a churchyard rather than inside a church, a gravestone would have been their memorial. But few of these have survived and so we have little evidence of the ways in which they may have remembered the deceased.