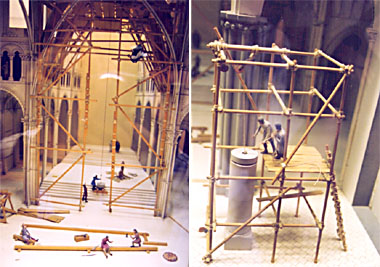 Model in the Canterbury Heritage Museum, showing construction work at Canterbury cathedral
Photos © S. Alsford
Stone was a relatively expensive building material and was used mostly for well-funded projects, where durability across generations was essential and sheer size practically necessitated stone; such was the case with religious houses, like the cathedral above or the Domus Conversorum at Oxford, a house for converted Jews that was turned to new use in the sixteenth century as the town hall. Some wealthier townsmn were prepared to invest in stone for their houses, in part because of the protection it offered them and their valuable possessions, from assault or from fire; or at least stone foundations, to protect against rot at floor level.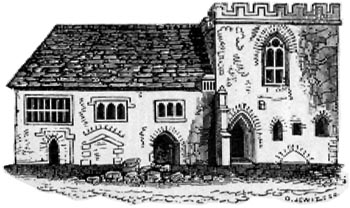 Domus Conversorum, Oxford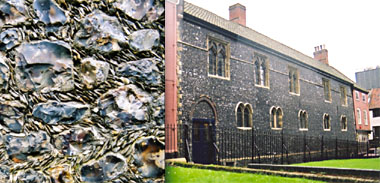 (right) North face of the Bridewell Museum;
(left) flint wall, showing how the stone was laid.
Photos © S. Alsford
At Norwich we find a number of structures built in part with local flint, because being plentiful it was more affordable. Knapped stones were laid in mortar, with the broad, flat face outwards to give a sheer effect, and the exposed mortar was protected from erosion by covering it with flint chippings. The building now used as the Bridewell Museum at Norwich was formerly the residence of the wealthy Appleyard family, and part of it dates back to 1325, when merchant Geoffrey de Salle had a house built here. William Appleyard, Norwich's first mayor, rebuilt much of the house and extended it; the undercroft served as his warehouse. . The north face dates to the late fourteenth century, being part of Appleyard's work. It became a municipal workhouse (bridewell) in the sixteenth century.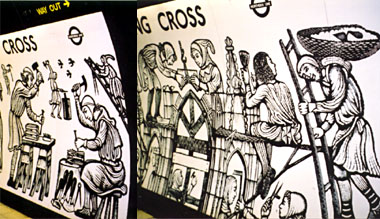 Extracts from a mural by David Gentleman depicting medieval stone workers
Photos © S. Alsford
In 1979 artist and stamp designer David Gentleman was commissioned to produce a mural for Charing Cross Underground station. He chose as his theme the making of the Eleanor Cross in 1291, whose Victorian replica now stands outside the station (although the medieval monument was originally on nearby site in present-day Trafalgar Square). The resulting mural, still in good condition, is 100 metres in length and depicts many of the stages of design and construction, and the various types of craftsmen involved in construction. In the extracts above we can see stones being carved before placement and in situ, while other workers are engaged in laying stones.