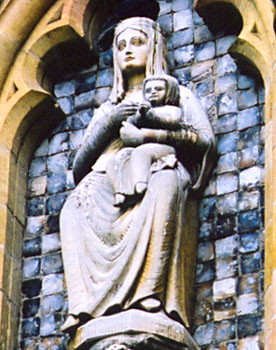 Photo © S. Alsford
This serene Madonna and Child is the central figure in the exterior wall of what was once a chapel atop the Ethelbert Gate, one of the principal entrances into the close of Norwich cathedral. The gate was rebuilt around 1316, partly at the expense of the citizens as part of their penance and compensation for damage done to the close during a riot in 1272, including the burning of the original gate, although enough survived the fire to allow the gate to continue to function and to provide the basis for the rebuild. The chapel was to replace St. Ethelbert's church, also burned down by the rioters. Although Virgin and Child was a popular subject in religious art, the present statue is a modern replacement for one believed to have depicted Christ tending his wounds, which seems more germane to the context of the gate's rebuilding.
The entire gate (below) would have been, at its creation, even more highly decorated than it is today (N.B. the topmost section, here omitted, is a nineteenth century addition). The representation of Christ, along with that of an armed man facing off against a dragon, flanking the archway, may have been intended to communicate, or invoke, divine protection and deter any future would-be attackers. Although the carvings are modern replicas, fragments of what was replaced suggest that warrior and dragon were part of the original decoration. It is tempting, in a Norwich context, to think of St. George and the dragon, but the cult of St. George gained popularity later. It has been suggested [by Veronika Sekules in Norwich Cathedral: church, city, and diocese, 1096-1996, ed. Ian Atherton, London: Hambledon Press, 1996, 201] that these figures, along with smaller ones below them, symbolize a passage in Isaiah asserting divine intervention (through a fiery flying serpent) to suppress mortal strife, represented by the man with drawn sword.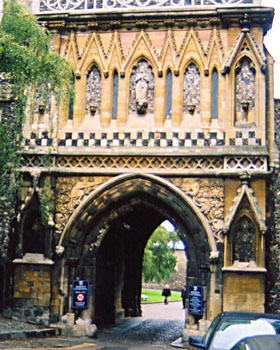 Photo © S. Alsford
Carvings of angels, busts, animals, grotesques were mounted at numerous points on religious architecture – almost gratuitously it seems, but in fact often for reasons tied to deep-seated religious beliefs that few today hold. The two examples below come from (left) an exhibit in the Yorkshire Museum, York, and (right, with monastic tonsure) an exhibit in the museum formerly in the church of St. Peter Hungate, Norwich.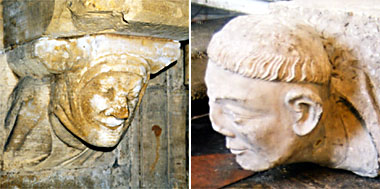 Photos © S. Alsford