The Battle of Tewkesbury (1471) provides an example of ways in which towns could indirectly influence military outcomes. The final battle of that phase of the civil war between Lancastrians and Yorkists came about when Queen Margaret returned from exile and made her way from town to town in an effort to recruit enough support to challenge Edward IV. She picked up West Country reinforcements at Exeter, and supplies at Bristol, then headed towards Bath.
However,learning that Edward was bringing a force to cut them off, the Lancastirans veered north, hoping to find more support in Wales. Upon reaching Gloucester, where they aimed to cross the Severn, they found the city had barred its gates against them, and the keeper of its castle was prepared to defend against any effort to force an entrance. Unable to delay for any such effort, they continued north, intending to cross at Tewkesbury.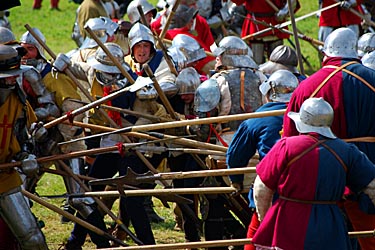 Infantry wielding various pole-arms -- essentially the precursors of pikemen -- clash during a re-enactment of the battle of Tewkesbury
Photo © S. Alsford
The exhausting forced march to Tewkesbury and the arrival of the Yorkists obliged Margaret's army to give battle at a disadvantage in fields outside the town. The course of such battles typically began with archers and (less commonly) gunnery attempting to demoralize the enemy and break up their defensive lines or offensive charges. This would be followed by episodic hand-to-hand fighting of massed contingents of soldiers, mostly on foot, until the side that was more exhausted, or outflanked, gave way and took to flight – which was probably when much of the killing took place.
A decisive Yorkist victory was the outcome at Tewkesbury, with fleeing Lancastrians unable to find protection in the town (which lacked walls), some drowning in an attempt to escape across the river, while others took refuge in Tewkesbury abbey only to be extracted (perhaps by force) and executed.