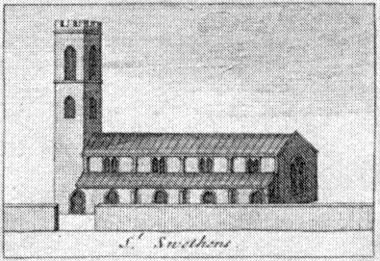 St. Swithin
From Corbridge's map of 1724.
The dedication to an Anglo-Saxon bishop suggests that this may have been an early foundation serving the settlement of Westwyk. As the street connecting Westwyk with the city centre became more heavily populated there came to be a string of about ten churches, at roughly hundred yard intervals, between the western stretch of wall and Tombland.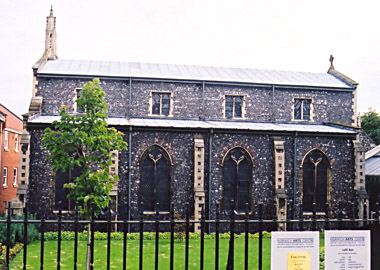 St. Swithin, south side
Photo © S. Alsford
St. Swithin's tower had so deteriorated by 1881 that it had to be pulled down, leaving only the nave. Depopulation of the parish took effect over the course of the twentieth century and led to the church being declared redundant in 1977. It is currently used as an arts centre.