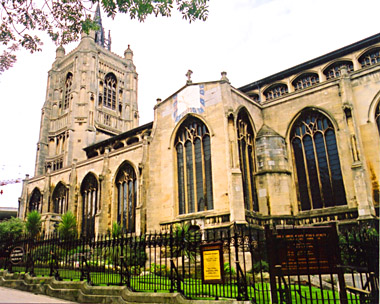 St. Peter Mancroft, south side
Photo © S. Alsford
One of finest examples of Perpendicular in East Anglia, the original church was built in 1075 by the Norman Earl of East Anglia, Ralph de Guader, to serve the community of French immigrants whose settlement he encouraged at Norwich. It was situated on one side of the market-place of the new French borough (the city guildhall later being built on the other side) and, as that market-place became a focus of the community's economic life, the church may have taken on greater importance, numbering important townsmen among its parishioners. This marketplace, established in a large open field, or croft, led to the district becoming known as Mancroft. However, this distinguisher from other Norwich churches dedicated to St. Peter was assigned after the medieval period. After Earl Ralph's failed rebellion against William the Conqueror, the church came into the hands of Gloucester abbey and was known as St. Peter of Gloucester.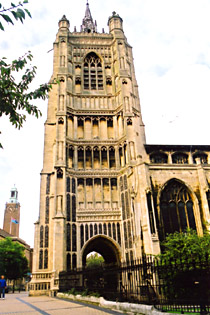 Statues would once have filled
the niches on St. Peter's tower
Photo © S. Alsford
In 1388, it was transferred to the Benedictine college of St. Mary in the Fields, located not far from St. Peter's. By now the church was falling into a state of disrepair. It was rebuilt on in the second quarter of the fifteenth century, thanks to donations and bequests from city gilds and wealthy merchants; the new church was consecrated in 1455. Many of its decorated fittings and stained-glass windows were through donations from the townspeople.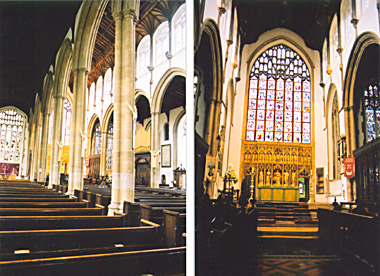 (left) Nave, looking east.
(right) Choir, high altar and East Window.
Photos © S. Alsford