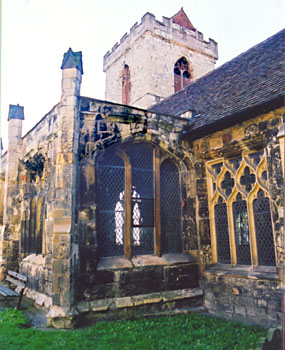 Church of Holy Trinity, York
Photo © S. Alsford
The church of Holy Trinity, Goodramgate, is known to have been in existence by the late eleventh century, although only fragments remain of the structure from that period. The church was a simple rectangle in its plan. Chancel and a south chapel were added in the thirteenth century, and the south aisle in the fourteenth. The tower did not come along until 1495-96.

The chantry chapel of St. James, seen in the left-hand side of the photo above, was built through a bequest of £400 for the purpose, in the will of Robert de Holme (1396), although there is evidence he had founded the chantry itself several decades earlier; the actual construction may not have taken place until the early fifteenth century, under the supervision of Holme's son. Holme, one of the wealthiest cloth merchants in York, had served as its mayor in 1368. About 45% of the monetary value of his will went in pious bequests, including £86 for the poor. His brother Thomas (mayor 1374) founded a chantry in 1377 in the church of St. Mary, Castlegate, and Robert's son of the same name in 1428 assigned £333.6s.8d to establish a chantry in St. Anne's chapel on Foss Bridge.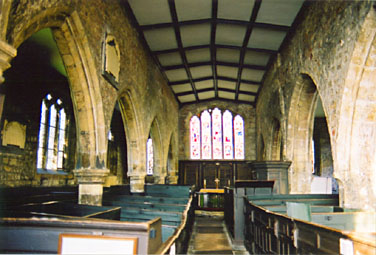 Church of Holy Trinity, York;
looking east down the nave, towards the chancel
Photo © S. Alsford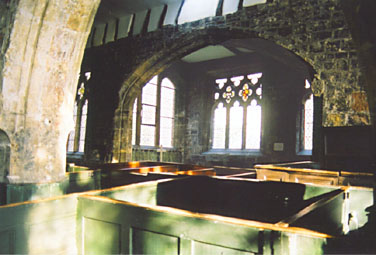 Church of Holy Trinity, York;
from the nave, southwards into St. James' chapel
Photo © S. Alsford