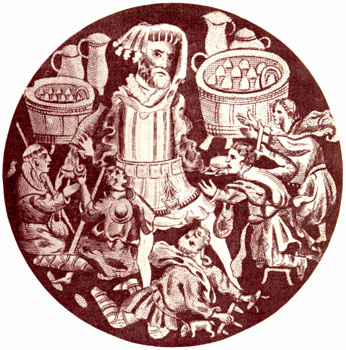 The 'beggar's dole'
This drawing, published in Gentleman's Magazine in 1793, was based on an image from a stained glass window. It shows food and drink being distributed to the poor, to the crippled, and to those in religious orders who lived by charity.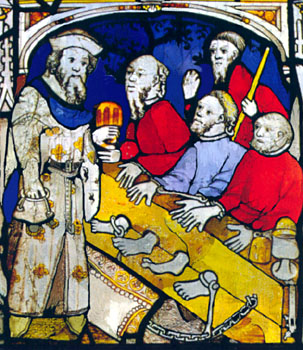 Pity on the unfortunate
This panel is from a fifteenth-century window in the church of All Saints, North Street, York; the window as a whole illustrates the six acts of mercy mentioned by St. Matthew. The panel here shows a man (whose clothing indicates him to be wealthy) dipping into his purse to help those who have fallen into misfortune: prisoners, shackled into the stocks. The money he gives them will help them buy food and drink while in prison. The man at rear with the staff is perhaps the gaoler.