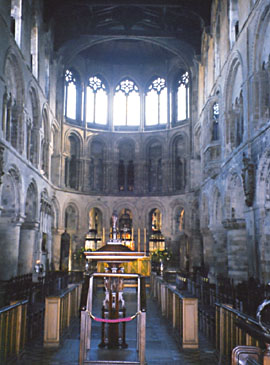 St. Bartholomew's the Great, London:
view down the quire towards the sanctuary
Photo © S. Alsford
The Priory of St. Bartholomew was founded in the twelfth century. Rahere, a member of Henry I's court, contracting malaria during a pilgrimage and being nursed back to health at the Hospital of S. Giovanni de Dio in Rome, which stood near a church claiming to house the relics of St. Bartholomew, vowed to found a hospital if God allowed him to recover and return to England. What Rahere began to build upon his return home was a large priory church, together with a hospital for the care of poor people. The latter building stood opposite the large precinct on which the priory was situated.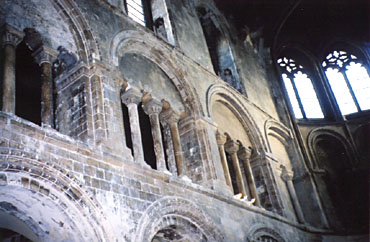 Inner-facing wall of St. Bartholomew's quire
Photo © S. Alsford
Virtually nothing survives of the hospital today, although it has been succeeded by the famous hospital of the present-day. Only part of the church has survived, although this includes the oldest part, including the quire and sanctuary; the nave was demolished at the Dissolution, and the priory buildings and most of the cloisters have also gone. The Romanesque triforium, central in the photo above, was part of the original, although the clerestory above it – which brought natural light into the church – was an addition of the later twelfth century and its windows were expanded in 1405.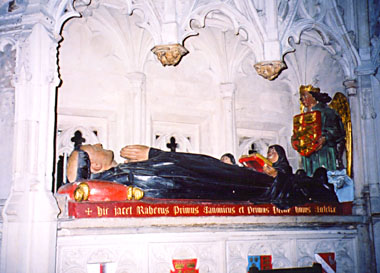 The founder's tomb
Photo © S. Alsford
The tomb of Rahere became associated with healing miracles and was a pilgrimage destination. The tomb shown above, which was originally entirely painted in rich colours with parts gilded, was created when the church was remodelled in 1405; so the representation of the founder should not be considered a likeness, although it at least garbs him in the black habit of an Augustinian canon. The rule of the Augustinians was more flexible than that of monks, allowing them to participate more in the life of the community, as parish priests for example or to serve in almshouses and hospitals.