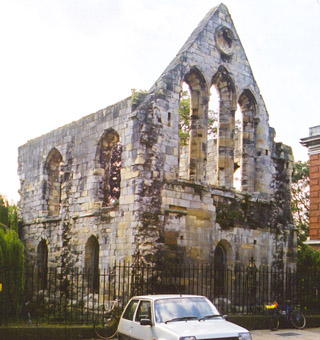 Photo © S. Alsford
The infirmary chapel is the most visible of the few remains of St. Leonard's, once a sizable institution occupying a large site just inside York city walls. It probably had the largest income of any English hospital – £1,262 in 1287 – supported by a tax exemption from its patron, the king, and had the largest staff and number of inmates. The hospital catered to a wide range of needs, including care of the sick, maintenance of the elderly, temporary shelter for pregnant women, education of 30 choristers, and spiritual support to the poor.
The hospital staff included cooks, bakers, and washerwomen, a brewer, miller, carpenter, mason, wheelwright, farrier, and a smith, as well as carters and sailors responsible for transporting the sheaves of grain that were a keystone of the hospital's revenues (until a popular uprising in 1469 persuaded the king to abolish this forced contribution). The hospital's constitution provided for eight sisters – some occasionally referred to as matron or medic – to tend to the needs of the sick, assisted by eight other women. Saint Leonard had a reputation as a healer, and there were numerous hospitals dedicated to him.
In 1985, St. Leonard's Hospice was founded in York as a charitable organization providing in-house palliative care and off-site services for others with serious illnesses.