The hospital of St. Giles, much of whose fabric has survived, gives an impression of what St. Leonard's at York may once have resembled. The hospital, dedicated to the patron saint of the leprous and the lame, was an early project of Walter Suffield, after his consecration as Bishop of Norwich in 1245. Probably raised and educated in the locality, his own strong interest in charitable initiatives to assist the poor was likely reinforced by the interest of Norwich citizens in a hospital, for many of them made donations to it in the years following its foundation in 1249. The hospital's constitution included the requirements that:
13 paupers receive food daily, outside the gates in summer or before the hearth in winter;
seven young scholars be hosted while educated at a grammar school;
the hospital provide accommodations for a number of poor clergymen who were old or infirm;
at least 30 beds be set aside for poor laymen who were ill.
In 1272 merchant and former bailiff William de Dunwich bequeathed a large sum to support 5 more beds, and pay two chaplains to celebrate daily in the hospital's church for his soul. There were several live-in lay women to look after the sick. Over time the original focus on the poor was diminished, as paying boarders were taken in and it developed into a secular college for the clergy (reflected in the addition of a cloister).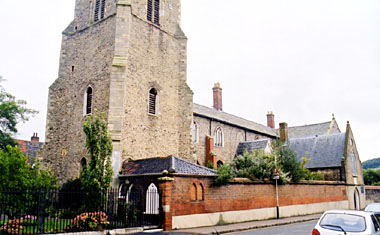 St. Giles was the largest and wealthiest hospital in medieval Norfolk. The view above shows the bell tower (a late medieval addition), the infirmary (subsequently the male inmates' quarters), and the porch at far right.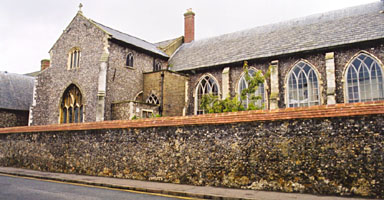 This view shows the chancel and Lady Chapel, with the porch at far left. Behind Lady Chapel stands the nave of St. Helen's a parish church transferred from across the road in 1270, so that it might serve hospital residents as well as the parishioners.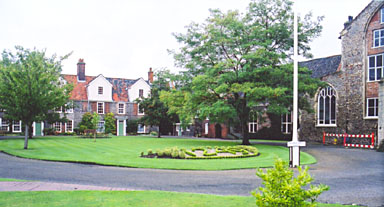 On the far side of its green (which proudly proclaims the foundation date) from Bishopgate is a row of post-medieval almshouses. To their right can be seen the end of the infirmary and, to its left, the dining hall. The hospital continues today as a charitable institution, under another name by which it was less formally known in the Middle Ages: the Great Hospital. It still pursues one of its original aims in providing accommodation and care for the elderly; about 200 pensioners and their wives are residents nowadays.
Photos © S. Alsford. Plan from W.H. Godfrey, The English Alms-house, 1955.