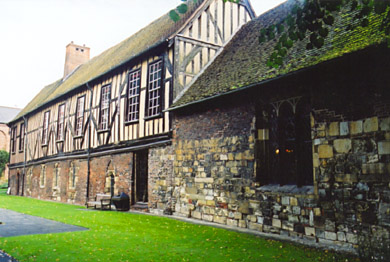 A socio-religious gild built the original hall soon after mid-fourteenth century; a hospital was part of its plans. The hospital was in operation by at least 1373. When the mercers gild took over the property in the next century, they continued to support the hospital, putting it to the use of pensioners among their own members. The hospital was located in the hall's undercroft (lower floor), one of the earliest post-Roman uses of brick in secular English architecture; the hospital was served by a chapel (seen here on the right-hand side of the photo).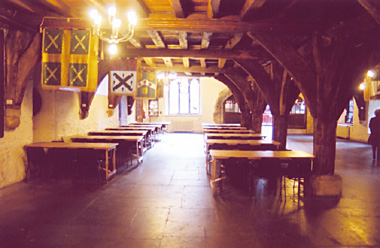 The hall, built partially atop an older (Norman) house, is exceptionally large and the undercroft was originally divided by partitions into cubicles for the inmates; the floor level has been raised several feet since the Middle Ages. The entrance to the chapel can be seen at right rear.
Photos © S. Alsford.