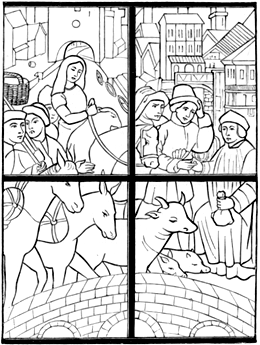 What are presumably country-dwellers are shown bringing livestock and produce into town to sell in the marketplace. At the bridge into town they pay toll to the city collector, who wears the gown of a clerk of the bureaucracy, showing him due deference (with a touch of the hat). The drawing was made from one of a series of late 15th-century stained-glass windows in Tournai cathedral depicting scenes of urban commerce.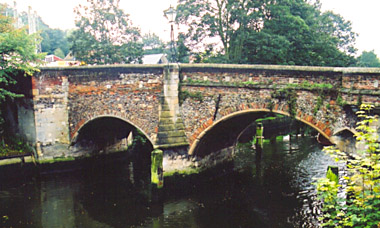 Photo © S. Alsford.

Bishop's Bridge, Norwich, situated on or near the likely location of a ford, was the only medieval access into the city from the east, via Holmestrete (now Bishopgate). In a settlement of jurisdictional disputes between the city and cathedral-priory in 1331 the citizens of Norwich recognized the right of the Prior of Holy Trinity to build houses near either end of the bridge, so long as these did not block access either to the water's edge (for those wishing to water their horses) or into the city for those bringing "hay, rushes, turves and other necessaries". The Prior was also to be allowed to build gates at the city end of the bridge and to collect revenues there.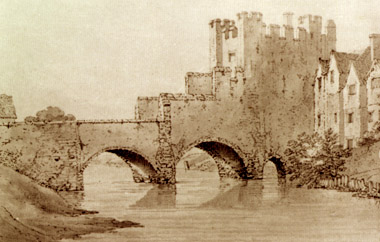 However the gate appears not to have been built until a decade later, as part of the scheme financed by Richard Spynk to enhance city defences generally. At that time the bridge itself was strengthened by adding arches, the gate built, and a drawbridge installed in front of the gate. This 18th-century sketch shows what the bridge looked like with the imposing gateway controlling access into the city.