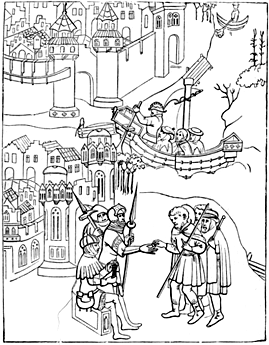 Travellers such as merchants who arrived by ship at a port could expect to pay tolls and customs on the quayside or before being allowed to bring their goods into the city through one of its gates.
Drawing from an illustration in British Library MS. Add.24,189.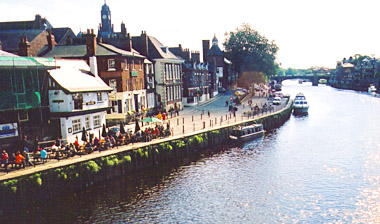 Photo © S. Alsford.
York's present-day quayside, viewed from the Ouse Bridge, was also the medieval staithe, where most merchandize was loaded or unloaded and subject to tolls or customs. For a while York was one of the official staples through which all English wool had to be exported, as a means of ensuring customs were paid.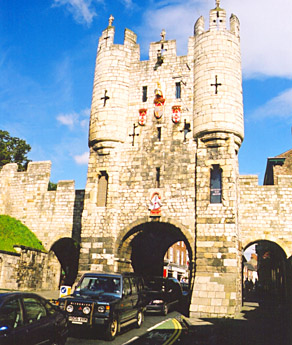 Photo © S. Alsford.
The sturdy walls that still ring most of York's inner city continue to oblige traffic to enter and exit through the medieval gates, just as commercial traffic had to do in the Middle Ages. Micklegate Bar, the main entry into the city from the south, is the gate seen here; the smaller arches on either side of the main entranceway did not exist in the Middle Ages, and the main entrance was fronted by a barbican.