York - Clifford's Tower
---
As one of the most important cities in England, and an important base for holding and administering the north, York was the site for two of the castles William the Conqueror built in the years immediately following his conquest. The principal castle was begun in 1068, as part of a campaign to subdue anti-Norman sentiment in the north. Its wooden defences focused around and atop the motte; they were destroyed during a local rebellion the following year, but rebuilt by the Normans after suppressing the rebels and taking harsh reprisals on York.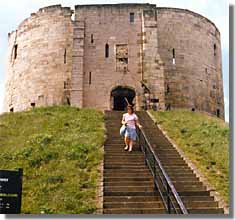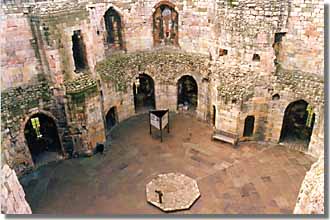 In 1190 the wooden keep was again burned down, during a siege by citizens of the Jewish community which had taken refuge there. This was one instance of a continent-wide persecution stimulated in part by the emotionally-charged and propagandized environment of the Crusades. At and following the accession of the crusading king Richard, successor to Henry II who had been careful to protect England's Jews, there were a number of violent outbursts against them in various English towns. In York, a violent incident was quickly followed by most of the Jews there seeking protection within the castle. However, when there fear became so great that they refused even the constable of the castle admittance, an attempt by royal authorities to regain access deteriorated into a mob assault on the castle. Rather than fall into the hands of the mob, many of the Jews committed suicide and set the keep afire. The survivors emerged the following day, only to be massacred by the besiegers. As punishment for this terrible act, the king's Chancellor dismissed the sheriff and constable, imposed a heavy fine on York's citizens (who claimed not to have been involved), but the ringleaders had fled and could not be brought to justice.

In the latter half of the thirteenth century, the keep was rebuilt in stone. It was given a quatrefoil plan, of which there is no other example in England. The keep later became known as Clifford's Tower, possibly after Roger de Clifford, who was hanged there in 1322.
---
| | |
| --- | --- |
| Created: March 7, 1999. Last update: December 28, 1999 | © Stephen Alsford, 1999-2003 |