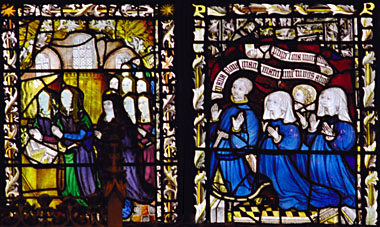 Benefactors of St. Peter Mancroft
Photo © S. Alsford
These two adjacent lights appear in the bottom right-hand corner of the Great East Window of the church of St. Peter Mancroft, Norwich. There are 42 such main panels in the window, and 39 tracery lights. Most of these illustrations, made in the third quarter of the fifteenth century, depict scenes from the New Testament, but those in each of the bottom corners show contemporary portraits, presumably benefactors of St. Peter Mancroft, likely those who contributed to the cost of making some of its stained-glass windows. Thomas Elys and his wife have been identified as those portrayed in one panel.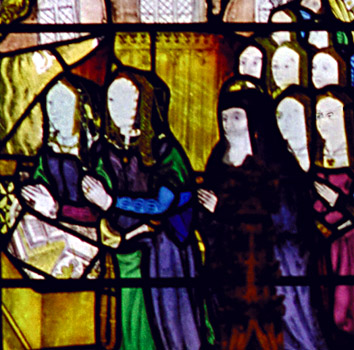 Photo © S. Alsford
Those in the other three panels are not explicitly identified. One panel (top of page, on the right) shows a family group of husband (believed to be Robert Toppes), wife and two daughters; one daughter's head has been replaced with that of an angel, the result of a challenging reconstruction and assemblage of panels after an explosion blew out windows in 1648. A second panel (above) shows a group mostly or entirely female. Their dress and adornment does not seem to indicate this was a religious community, though it might represent members of a socio-religious gild. The third (below), due to the effects of reconstruction, is ambiguous. The large number of persons shown is again suggestive of a gild; however, other evidence suggests these are members of the Elys, Garnysh, and Ramsey families, all related through marriage.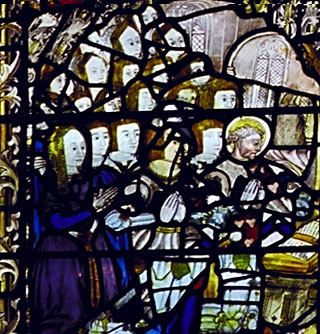 Photo © S. Alsford
It may be that the entire set of seven lights on the bottom row of the window were dedicated to portraying benefactors (although these panels were originally distributed among separate windows). Unfortunately, the centre three were replaced by Victorian panels in 1837.