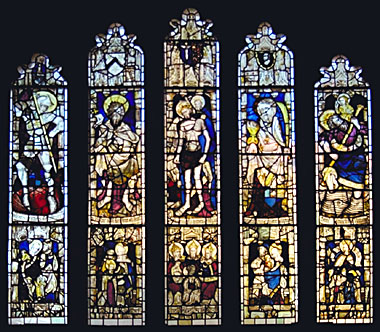 The east window of the church of Holy Trinity, Goodramgate, York
Photo © S. Alsford
The east window of Holy Trinity, Goodramgate, was created in 1471, thanks to a gift from a former rector. The main lights depict (from left to right), St. George, St. John Baptist, Corpus Christi, St. John the Apostle, and St. Christopher. Originally, the window was deeper, incorporating two other rows of figures at bottom, but these were subsequently cut off by the altar screen, and some of the lower panels are now found in other windows of the church.

The creation of stained glass called for both considerable technical skills and artistic ability. The most impressive achievements are of course found in English cathedrals, such as those at York and Canterbury, which could afford the expense involved in the production of these master-works. But, despite the threats stained glass windows faced in the post-medieval period at different times, some excellent examples can also still be found in parish churches.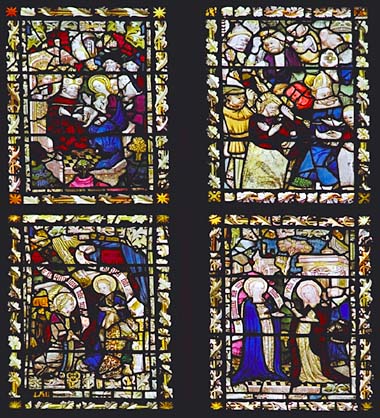 Part of the east window of St. Peter Mancroft
Photo © S. Alsford
The church of St. Peter Mancroft at Norwich possesses some fine stained glass windows. Notably its Great East Window, the best example of the school of glass-painters that was established in Norwich in the fifteenth century.

The vivid scenes include the two below: the uppermost depicting the slaughter of the infants, in which Herod is portrayed as participating personally, while a father begs for his child to be spared, and a mother tries to strangle the soldier on whose sword her baby is impaled; the lowermost appears to take a tone of social commentary, by showing the arrested Jesus being subjected to torture from noblemen and merchants, while a high priest in bishop's costume exchanges a congratulatory handshake with a monk or scribe.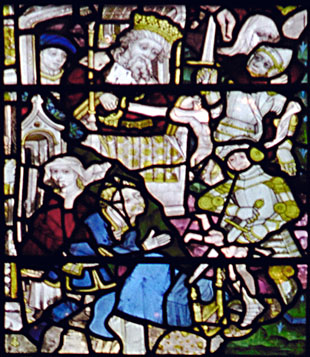 Photo © S. Alsford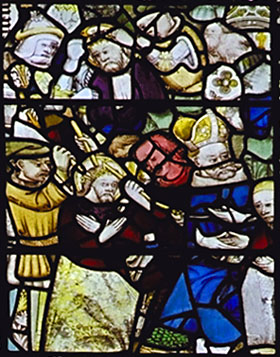 Photo © S. Alsford